Being an out and about dog owner can be tough sometimes. You leave your pet at home or you bring them on your trip. Well, if you do the latter frequently, you need some equipment to aid you and your loving travel companion. There are so many pet accessories out there, so it might overwhelm you in picking which is the best for you and your pet. But worry not, we prepared a list of the best portable accessories for dogs that you can purchase for your travel essentials.
Let's face the truth: traveling with your four-legged best friend can be challenging. There is so much pet equipment to bring during your outdoor adventures. Luckily, there are portable accessories for dogs that you can bring along to make your trip more fun, lighter, and stress-free. Looking for the ideal travel accessories for you and your dog can be tricky given the wide market. There are so many aspects (quality, price, etc.) and brands that you need to consider before buying products. Thus, you also need to consider the activity that you'll be doing with them outside– buy only what you need.
Accessories that May Come in Handy if You're Traveling with Your Pet

1. Portable Water Bottle:
Keeping your dog hydrated wherever you go with them is very important. Dehydration is the least thing that you want to happen, especially when the both of you are outdoors. Bringing a regular bottle and a dog bowl would be a massive inconvenience on your part. Meanwhile, letting them drink using a regular water bottle is also inconvenient on your dog's part. Hence, it would be ideal for you to have a portable water bottle exclusively made for dogs.
2. Portable Dog Bowl:
Bringing your dog to an outdoor adventure should be fun. But during feeding time, it could be a hassle. Another massive inconvenience whenever you travel with your dog is bringing a dog bowl. If you want a space-saving device to feed your dog outdoors, then you better opt for a portable and collapsible dog bowl that is very lightweight to carry and has a built-in clip so that you can attach it outside your backpack.
Dog Backpack:

If you're looking for something that is more convenient than a leash, then a dog backpack might be the best accessory for you and your dog as you go on your outside trip. Dog backpacks are starting to be a fad nowadays because they allow traveling pet owners to bring their furry buddy wherever they go without worrying about their dog misbehaving in public.
Dog Jacket:

Not all dogs have a good amount of fur to protect them from hypothermia. A dog jacket may come handy during some bad weather and the winter season. It's waterproof, equipped with a thick cotton inner lining to warm your dog during cold weather. Moreover, it's unlike any others as it has reflective materials to keep your dog visible and safe in the dark.
It's easy to put on, easy to clean, adjustable, comfortable, affordable, and lightweight! It's everything that you could ever want in a dog's jacket.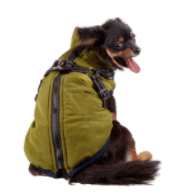 Collar and Dog Leash:
To many owners, these two are considered as the most important portable accessories for dogs. Collars are mainly used for identification–surely, we don't want our fidos to get lost in public places. You can have a personalized collar wherein your dog's name, your name, and contact information are embossed around the collar. On the other hand, leashes are important as most states and cities implement leash policies and regulations. Most states mandate dogs to be on a leash when they're on public property to restrict their movement and avoid complications outside.
Key Takeaways

Buying portable accessories for dogs shouldn't be taken lightly as it can affect the overall quality of your trip with your four-legged companion. Consider pet accessories as an investment so always choose the best quality out there in the market to avoid returns, or worse, buying again.