Thanks to the internet and mass media, Paint by Number paint sets seem to be everywhere and this has caused a trend for sparking everyone's creativity and inner da Vinci. Have you ever wondered how this cultural phenomena started? Read this article to find out how!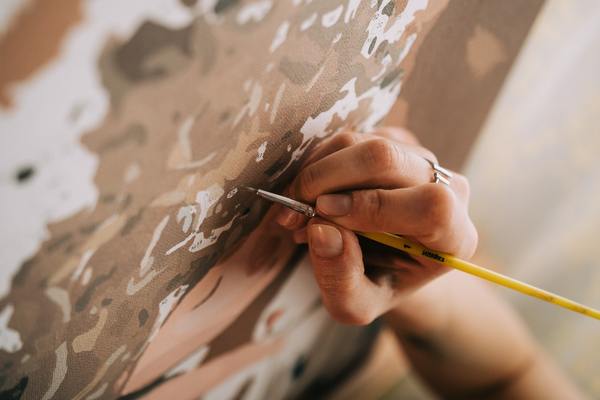 Paint by Numbers, by meaning, is an art system wherein the sketch of the painting is divided into segments of different shapes and sizes. Inside those segments are numbers that correspond to a particular color. This art system was popularized by Dan Robbins, the creator of the original Paint by Number kits. These kits are what we know today, consisting of a pre-marked canvas, a set of acrylic paints and a set of brushes.
The whole concept of Paint by Numbers is to let everyone experience the joy of painting despite age and skill level. However, some view this system negatively due to its "lack of creativity and formulaic" process. Art critics even argue that this system is derivative and unoriginal, hence, they don't consider it a "work of art." Whatever the case may be, Paint by Numbers is still very popular up till today due to its benefits to one's mental health; and of course, it gives everyone a chance to become an artist even though they don't usually pick up a paintbrush.
Behind Paint by Numbers:
Going back to history, some would argue that it was Michaelangelo and for some Leonardo da Vinci, that invented the concept of Paint by Numbers. But according to the accounts of Dan Robbins, the creator of the Paint by Number paint sets in his book "Whatever Happened to Paint by Numbers," the concept was borrowed from Leonardo da Vinci who used the numbering method for his students. Those numbered patterns would represent certain colors in specific projects like underpainting and preliminary background colors.
Meanwhile, Dan Robbins took this idea in 1949 to create a hobby kit targeted at the masses. In order to create this hobby kit, he first painted an original artwork and used it as an outline guide to replicate over plastic sheets. The outline was divided into different segments filled with a given number, which corresponded to a color. The rest is history, and thus, the Paint by Numbers kits were born.
The Clever Trick that jump started Paint by Numbers' popularity:
Abstract No. 1 is the very first Paint by Numbers kit produced by The Palmer Show Card Paint Company which was later renamed to Craft Master. Abstract No. 1 is a vibrant abstract painting that paid tribute to the Abstract Expressionists at the time. It was postwar in the 1950s and during this time, conformity was more valued than creativity, so marketing the kits was a risky move knowing that people weren't open to doing art as a hobby.
Max Klein, the company owner, had a clever marketing ploy: to demonstrate the kits at Macy's. Part of the idea was to give the company workers $250 each and the money was to be given to people who were willing to pose as buyers during the demonstration at Macy's. 
The marketing ploy did work, and "customers" flooded in without knowing who the real customers were and the ones who were only paid. Nonetheless, the ploy helped in skyrocketing the sales of the kits.
Due to the high demand of the kits, the company increased its workers to 800 people in order to keep up with the demand. By 1954, the company was making $20 million USD off Paint by Numbers kits alone and by 1955, over 12 million kits were sold. 
"Every Man a Rembrandt"
Paint by Numbers stays true to its original tagline, reminding everyone that picking up a paintbrush and painting on a canvas do not require a certain skill level in order to have a beautiful piece of artwork in the end. All you need is creativity, imagination and a little bit of patience. Now that you've learned about the meaning of Paint by Numbers and how it all started, we hope you get inspired to choose a kit and see the magic by yourself.