Coming up with painting ideas is not always easy. Both beginners and professionals struggle in finding inspiration for their artworks. So, if you're running out of concepts and ideas, just remember that you are not alone. To get you started, we will be helping you gain back those creative juices by giving you a list of some cool and easy things to paint on a canvas that even beginners can do at home.
Many beginners feel frustrated when they run out of ideas for easy things to paint on a canvas. But, if you try to explore the world around you, you'll be amazed at how inspiring your surroundings are. These ideas in the list are not just suitable for canvases, you can use any surface you like such as wood, panel board, watercolor paper, a page from your art journal, canvas fabric, and many more. The creative control is yours so you can use these ideas and personalize them to your liking, making them more unique and astounding. Without further ado, let's take a look at some of the easy things to paint on a canvas (or other surfaces) that you can paint and enjoy. Have fun!
What Medium Should I Use?
Before we begin with the painting ideas, let's talk about mediums. Since the ideas for these easy things to paint on a canvas project are easy, you need to consider two things when choosing a medium: if the medium is easy for you to use and if it's easily available anywhere.
Since painting is all about personal preferences, you can use any type of medium that you like based on your budget and availability of the chosen medium. The most common mediums that you can use for these painting projects are acrylic paint, oil paint, watercolor, gouache, and even oil pastels if you're up for a challenge. But as advice, if you're a beginner painter, we highly recommend that you use acrylic paints because they are beginner-friendly, affordable, and available. In addition, there's no pre-mixing required when you'll use acrylics.

What are Some Easy Things to Paint on a Canvas?

    1.  Ocean-inspired abstract canvas:
Many people use vivid ocean views as a source of inspiration for their art. It's easy to recreate and there are many angles that you can use as a painting scene. Moreover, it only takes less than 30 minutes to create a simple ocean painting which is great for busy people who want to paint for a short while as a stress relief for their busy daily life. The key to a great ocean painting like in the image below is a great blending technique, a great sense of impeccable brushstrokes, and texture. These three factors will make your painting stand out from the other ocean paintings. The twist in this painting? Use fine sand (that you can purchase from the arts and crafts store) to incorporate in the painting to make the sand part more realistic and textured.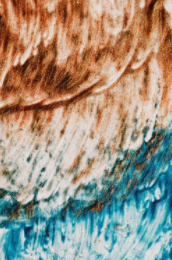 2.  Canvas silhouette:
Another simple yet beautiful canvas painting idea is a silhouette painting. The components of a trendy silhouette painting are a gradient background composed of two three colors, a printout of your choice, and some minimalist details that can improve the aesthetic quality of your painting. When making a gradient background, you need to work as fast as you can (but not too fast) so that you can blend your paint. This is particularly the case with acrylics. Acrylics tend to dry quickly, so a fast and steady hand is required. The silhouette can be anything you like: a shadow, an animal, a flower, and many more. You can either do the silhouette free-hand, or if you're still having a hard time, you can print an image, cut out the subject, and use the paper as a silhouette guide.
The sky is also one of the greatest sources of inspiration for many artists. You just have to look above and see how majestic it is; no wonder many artists take time to paint the clouds and the sky from their sceneries and landscapes. When painting clouds, look at the sky for one to three minutes, then capture the scene/area that you like, either through your mind or phone (take a photo). Then, try to remember everything as well as you can, vary the shapes and colors, etc. The creative control is all yours!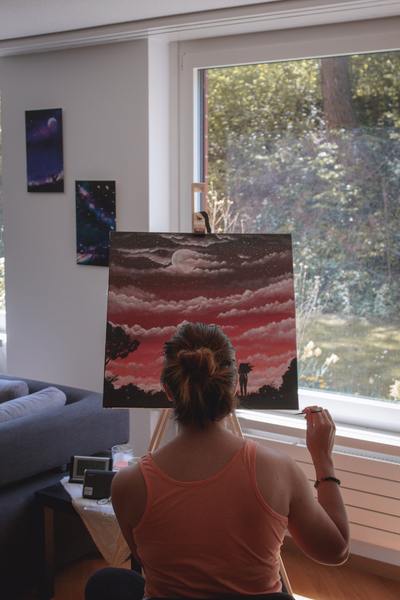 4. Simple chevron pattern:
Minimalist chevron stripes are very easy and fun to do, not just on a canvas but also on other surfaces such as walls, etc. that can give a nice accent and decoration. The process is pretty straightforward: all you have to do is paint some v-shaped stripes but it also requires a little bit of precision with the procedures so that you can achieve clean-cut edges. To make your chevron stripes precise and clean, you can use a ruler (or protractor), pencil, and masking tape as a guide on your surface.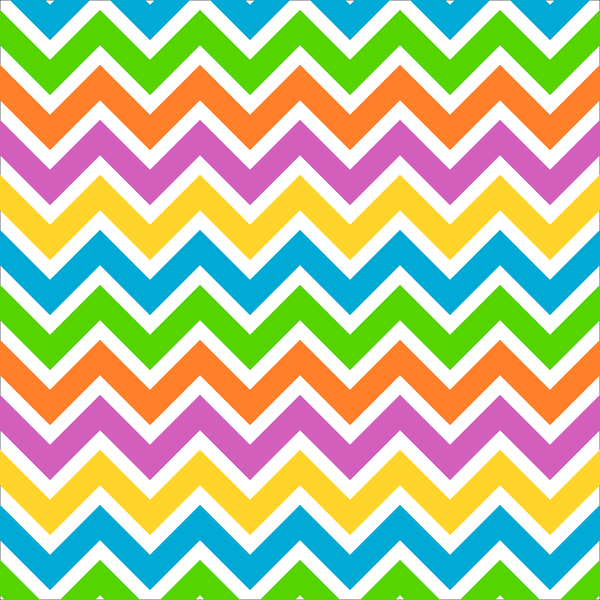 There's a popular saying in the art world that goes, "when in doubt, paint something abstract." It is 100% true because when painting abstract art, all you have to do is to channel your inner soul and use your intuition. Have fun like a child and be as messy as you like. Such a concept is very appealing for beginners because painting abstract art really requires zero skills. You just need to be very creative and imaginative; there's really no formula here because abstract art is purely based on your preferences, emotions, the message that you want to convey, and the abstract painting method.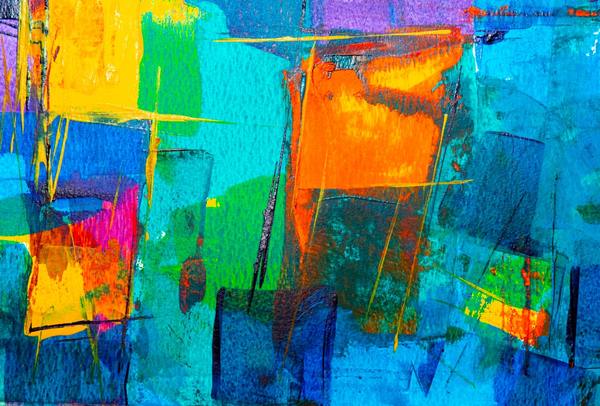 Conclusion
We hope that these five easy things to paint on canvas ideas fueled your creative drive to start a painting project. Don't just start and end on this list, there is so much more to explore in this world that you can use to keep your artistic sensibilities inspired. So now, have fun and start painting!