If you're an outdoor type of person who likes to go out and about for adventures, having the necessary pet accessories will make your adventures safer, more fun, and convenient. The outside world is a bit unpredictable, so don't let you and your dog suffer from possible inconveniences. There are so many pet accessories that are designed to help you and your dog as you wander in the outside world. Wanna know the must-have pet tools and accessories? Continue reading this article, then!
Planning to go out on another adventure outside? You may be an outside person, but are you certain that you have all the important products that will make your life and your dog's life easier based on the type of person you are? Make sure that you'll feel at home outside by securing everything you need before the big day. After all, you and your furry pup deserve the nicest escapade. Apart from gearing yourself up, your dog needs to be geared up as well so it would only be fair if they have their own gear as well as accessories. These pet accessories will not just work to their advantage, but also yours too as it can make your life easier.
Not buying the necessary pet products and accessories that are meant to make your trip safer and more convenient is like compromising your dog's safety… not to mention that it will also make your travel very inconvenient. The intent that you should have when buying pet accessories is to focus on the products' utility and not buy solely because they're trending. That being said, you should always consider the quality to see if they are worth investing in. From portable dog bowls to dog gear specifically for keeping your pup warm, we ensure that everything in the list is worth the price and pocket friendly!
PET ACCESSORIES THAT ARE WORTH BUYING:
1. Portable Water Bottle for dogs:
Keeping your dog hydrated outdoors is a very important task and it can also lead to a series of unfortunate events: water leaking from the bottle or a bottle too heavy that you decided to throw some water away, and don't forget the bowl! It's so inconvenient to carry another water bowl, especially if you brought so many things. These problems can be solved with a single product: A portable water bottle. This water bottle is leak-proof, lightweight, and it comes with a mini bowl so that you don't have to worry about carrying a separate water bowl. Moreover, it is very easy to use and can be operated just by using one hand.
2. Dog Backpack:
Wanna carry your dog in a very safe yet fashionable way? Well, a dog backpack has got your back. This product is specially designed for dogs so that you don't have to worry about their safety and comfortability when they're inside the bag. The best thing about having a dog backpack is that it would afford you with a great opportunity to have precious bonding moments if you and your pup are in a very close proximity as you walk and do certain errands.
This backpack is good for hiking, running everyday errands such as grocery shopping, etc. Or you can simply use it for a walk around the neighborhood or the park.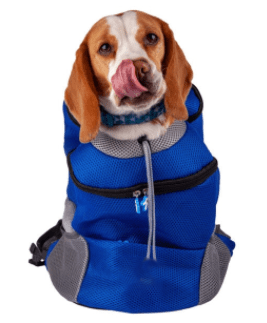 3. Poop bags:
You can purchase poop bags from pet stores or to save the environment, you can simply recycle old plastic bags or ziploc bags. As pet owners, it should be our responsibility to have our pet's stool segregated in a proper garbage place instead of leaving it in improper places. We don't want to step on poop, so imagine how another person would feel if they stepped on your dog's poop.
4. Foldable Dog Bowl:
We've talked about how inconvenient bringing dog bowls could be whether it's for water or food. You can't just feed your pup only jerky or with your hand and not all restaurants are pet-friendly. The logical solution for those problems mentioned are simple and very affordable: a portable and foldable dog bowl. Take this with you wherever you go without hassle. It has a clip that you can attach to your leash or backpack or even to your jeans.
5. Dog Shoes:
Dog shoes are not only cute when your beloved furry pal wears them, they can also provide extra support and cushion for your dog's feet, therefore making it less painful if you go out for a long walk or have a hiking adventure with them. Not all dogs would want to wear shoes, so make sure that you train your dog to be comfortable wearing them. Train them slowly and never force them into wearing shoes if they don't want to. However, with a little training and patience, they would eventually allow you to put it on their feet.
Dog shoes are most often used for older dogs in order to protect their toes from being rubbed against the ground, which can be painful. If your dog is stable enough, then this may not be needed, unless you go out during winter or simply for a hike.
6. Hands-free leash:
A hands-free leash is much better than a regular leash due to its added special features such as reflective bungee, heavy duty belt buckle, durable clasp, etc. a Hands-free dog leash is the perfect leash for your dog! It's stylish and 100% proven safe! Now you can do other things (such as taking photos or jogging) while you also look out at your pup on the side.
7. First-aid kit: You can purchase a first-aid kit for your dog at pet stores or you can simply make your own if you're on a budget. Accidents are likely to happen, even though we want to avoid it as much as possible. After all, prevention is better than cure.
KEY TAKEAWAYS These pet accessories are ideal for an outdoor person like you! Take your dog whenever and wherever possible, making sure that you have any of these in order to make outdoor life easier, safe, and comfortable for you and your pup.