If you're looking for a good way to relax, then you've come to the right place: painting. Yes, painting is a very therapeutic activity that can benefit your mental and emotional health. In this article, we will discuss the benefits of painting to our mental health as well as a starting guide on creating your own art journal!
Our physical health shouldn't only be our priority when it comes to taking care of our well-being. Our emotional and mental health matters as well. That way, we can have a balanced life. If physical health requires regular exercise and a healthy meal plan. Mental health requires creativity in order to have a steady state of mind. And what's a better way to be creative than painting? 
Painting provides so many benefits to our well-being. It improves our cognitive function, fine motor skills, focus and concentration, and so many more. Some people may think that painting is a stressful job because of their lack of technical skills, but as long as you're willing to learn the basics and loosen your inhibitions, then it is a very joyful and stress-relieving pastime hobby. Let's now discuss the several mental health benefits that you can gain if you start being creative through painting.
Preserving Your Sanity through Creativity
These days have been tough for most of us so it is very important to find creative ways to diminish stress and anxiety. Even though people have different tastes or ways in order to prevent stress and sadness, we highly encourage everyone to start painting. Here's why:
       1.   Increases your self-confidence:

If you're new to painting, learning a new skill is a big milestone that increases your self-esteem and self-confidence, giving yourself room to grow as time progresses. Thus, for artists, hard work that yields good results brings confidence as well. You will also gain confidence through painting by sharing your artwork to other people that will appreciate your art.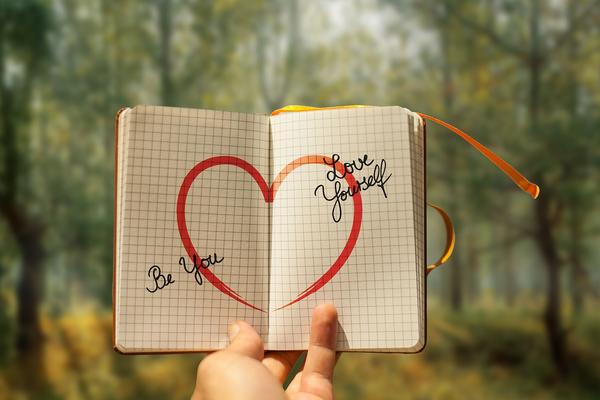 2.   It promotes a positive attitude:

Virtues are a very important part of life. Painting teaches us valuable life lessons that we can carry on a day to day basis such as perseverance and appreciation. Painting teaches us to persevere in a way that we need to be patient at a lot of times, the same way we wait for our masterpiece to dry, to not get mad when we do small errors in our art and so forth. On the other hand, it also teaches us to appreciate many things, particularly the world around us because it gives us so much inspiration. Look around you and you'll see that beauty is everywhere as long as you look at things not as it is, but as it could be.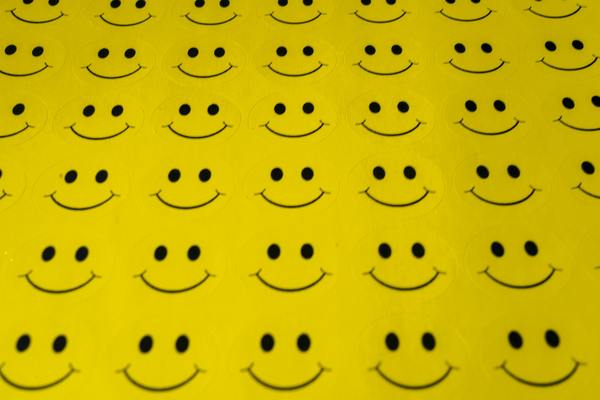 3.   Painting is relaxing:

Mindfulness is not something that everyone can achieve. Painting is one of the most stress-relieving and relaxing activities that can distract you from overthinking your anxiety and fears by letting you focus on the current moment. Giving yourself a downtime from all the buzz and stress in the real world is very important. Through painting, it gives you the opportunity to take off your phone, hold onto your brushes and focus on what you're doing–swirling the brush, examining colors, creating images.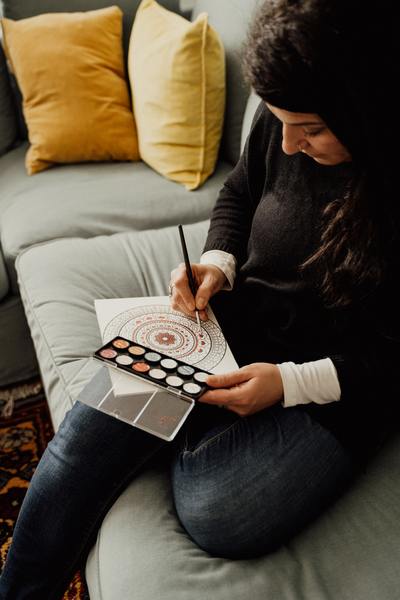 4.   Painting expands your socio-cultural knowledge:
One great thing about painting is that you can learn so many things about different cultures and traditions just by observing various arts of nations around the globe. Painting is like history in an image. It gives you the opportunity to encounter different artists, different art styles, trends, and techniques that you can use as an inspiration for your own works of art.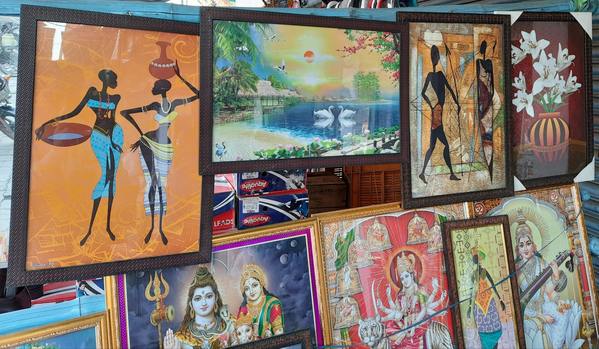 5.   It gives you the chance to communicate with your inner self:

As long as you put your heart and soul into your art, painting is a good way to talk to your inner self–about your deep thoughts and feelings, the inhibitions that you haven't released to anyone. In painting, you are in control of your brushes and the process of painting, doing brushstrokes, etc. becomes your inner consciousness, a part of you that you haven't really touched until that moment.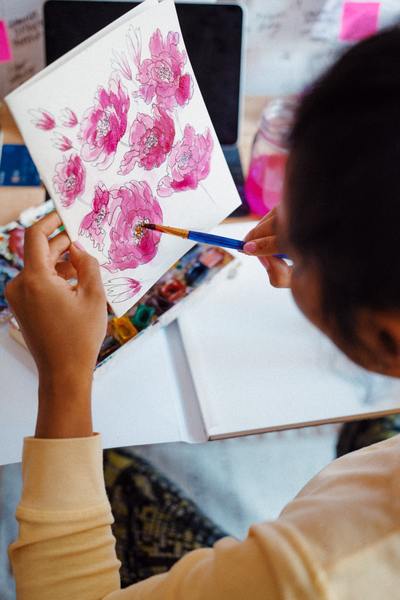 Art Journaling: A Creative Way for Personal and Artistic Growth

We know how painting benefits our mental health. Now is the time to put the knowledge into practice by starting an art journal. Some of us aren't consistent into journal writing because it "isn't" for us. You may think that it takes too much time and it gives you more anxiety as you reflect about your day, etc. On the other hand, if you're a beginner artist, a big blank canvas can be a bit intimidating for you. Art journals can help in diminishing your fear of creating an "ugly artwork," not having enough ideas, and creative block.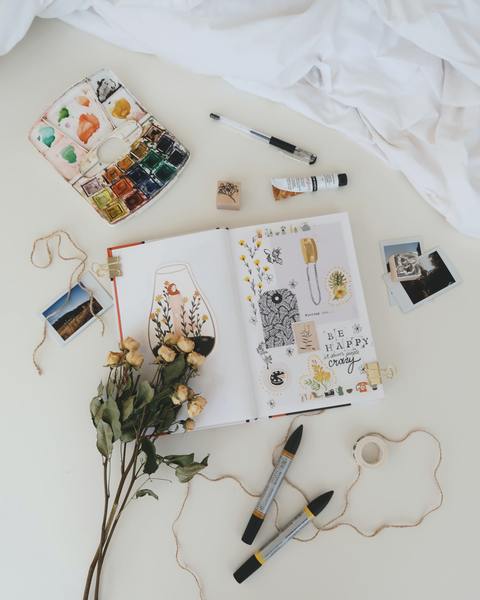 Art Journaling has less pressure because you put the words that you can explain into colorful images. It gives you mindfulness and a chance to grow personally and artistically. Thus, it's also a great way to practice, try out new things, and combine different mediums.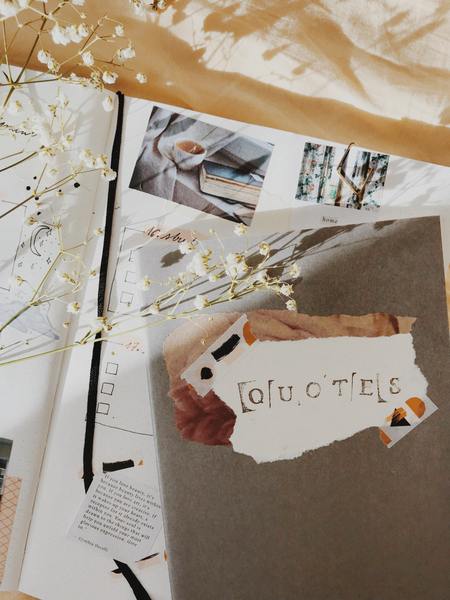 Here's a quick guide on how to start you art journal:
Have a "premium" notebook– you don't really need to have an expensive notebook for your journal. You just need a notebook that is compatible for the medium that you'll use–i.e. Acrylic paint, markers, etc. Some people use watercolor sketch pads, or they make their own "junk" journals from vintage books and magazines.

There are really no set of rules in art journaling– unlike painting in a canvas, art journaling puts no pressure in you because it's private unless you want someone to see it. Thus, you don't have to stick in just one medium. You can combine different art styles and mediums such as painting and assemblage, drawing and flower pressing, etc. so you can experiment and find different styles.

Let go of your fear– art journaling is all about artistic freedom. Let loose of yourself and don't be your own critic. Do not think about what others think of your art because it's all about expressing your feelings on a different creative level.