Old-fashioned, but not outdated. Retro with a modern twist. Classy and elegant. These are the words we typically associate vintage art with. If you're looking for easy, do-it-yourself vintage painting and other retro-inspired home projects, continue reading this article because we've got you covered.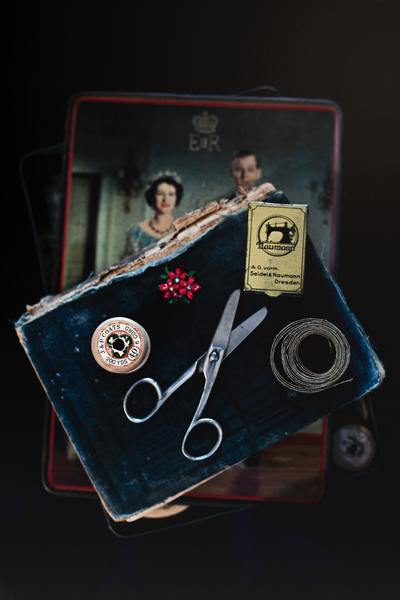 Vintage art generally refers to art that was made between 20 to 100 years ago. It has a wide scope and each of us has our own definition on what it is to be "vintage." To some, vintage art is composed of old paintings, victorian-era postcards and cherub paintings. While to others, vintage art is anything old-fashioned  which incorporates buttons, flowers and doilies. Moreover, a lot of vintage art (especially vintage paintings)  and antiques are getting expensive due to their high-demand and rarity in the market. So, if you still want those retro-looking decors without hurting your pockets, it's either you go flea market-hunting or create your own art.  
If you're having a creative outburst and feel like doing something different this time such as vintage art, then you've come to the right place. Thus, if you're looking for stunning vintage decors that are timeless and elegant but you're on a budget, creating your own through elevating unused materials is a great, cheaper alternative.
Ten Vintage Art Projects to Satisfy your Retro Soul:
Vintage Jewelry Box:
This craft is not only great as a room decor but it is also useful if you need storage for your jewellery and other knick knacks. Upcycle your unused gift boxes, shoe boxes, or any reusable containers and decoupage them using floral-themed (or any vintage styled) wrapping papers to turn them into jewelry boxes. 

Vinyl Record Wall Art:

Surely, vinyl records are the symbol of the past and now that we have streaming services for music on our gadgets, maybe it's time for you to grab those unplayable LPs and upcycle them into a displayable and stunning wall art. You will not only showcase your creativity but also your music taste! You can use both the records and the album covers for the display. 

To display them, you can either frame them, use a wall mount (if you're willing to pay for it) or simply use a couple screws to attach them to the wall.



Vintage Photographs Wall Display:


If you have old photographs of your grandparents, war photos, etc. you can frame and display them on your wall to make your home more rustic and old-fashioned. Instead of putting those photos into boxes that will most likely be ignored, you can also use them for your vintage-inspired crafts that will surely make your grandparents proud.


Doily-covered Mason Jars:
Looking for vintage centerpieces without breaking the budget? Then it's time to upcycle your mason jars (or other glass containers) by wrapping them in doilies! These elegant jars are not only meant for display, but they can also be used as a candle holder, flower vase (for bigger ones) or simply containers for the knick knacks in your room.

Vintage Painting:


This list wouldn't be complete without a vintage painting project. Instead of buying one (which is most likely going to be expensive), try to create your own with a few simple tricks to make your painting look more vintage. Plus, it feels different to display your own work of art compared to a painting that you only bought. You'll feel more accomplished and confident when your own hands make it. Moreover, you'll feel  proud when guests arrive if they see your lovely vintage painting.



Here are some tips and tricks that can make your painting (and other crafts) look vintage:

Use antiquing gel– this will help in making an object look older by brushing a layer of it and wiping off while leaving a thin film.

Use acrylic paint– create a "wash" or a more watered-down consistency of a paint (1 part paint to 3 parts of water), which can be used as a coat for your painting, leaving your painting with an aged accent.

In order for this trick to work, you need to use colors of rust, black, dark blue, patina green and burnt umber for lighter toned paintings. For darker toned paintings, you may use colors of white, light grey and light blue.

Use coffee and coffee grounds– use these to stain your canvas and paper.

Use fine grit sandpaper or emery board– you can use these to sand away the paper giving it a more weathered look.

 

Handmade Retro Postcards:
Exercise the dexterity of your hands by making your own retro-inspired postcards! They're simple and fun to make, plus, you can send them to your loved ones if it's their birthday or any other occasion that you can think of. The possibilities are endless when you're making your own postcard. It's either you sketch and paint it, or simply decoupage the paper with old magazine or newspaper cut-outs, etc.


Wine Cork Art:


If you're a wine enthusiast with plenty of corks in the kitchen, put them to use by utilising them in one of your craft projects. In this project, you will only need the wine corks, glue gun and a pop of creativity. Glue the corks together and form them into anything that you can think of. It can be any shape like a heart or circle to put it as a wall display. If you're up for a challenge, upcycle them into a bowl  or even into a coaster.



Vintage-inspired embroidery:


Put your embroidery skills to the test by doing this project. This will surely keep your hands busy for hours (or even days). Don't forget to use pearls, buttons and sequins to give your project a more vintage feel. 



Decoupage Easter Eggs:
Easter isn't around the corner yet but these decoupaged eggs can be a great display in your living room. They're fun to make with kids, the design possibilities are endless and they are also a great low-budget vintage craft project.

Vintage Journal Notebook:


It's the beginning of the year which means it's time to get a new notebook for your journal/planner. Instead of buying pre-designed notebook planners, get a plain notebook (or an old one with minimal scribbles) and design it by incorporating vintage and retro-inspired designs.