Leashes are just as important as collars. They're a staple in every dog owner's home and having one as an owner is mandated by state policies in most countries like the USA. The different styles and features are often overlooked and thought of as something unnecessary and used only for "style." However, the key features and components of a leash are just as important as the leash itself. We've already talked about the things you need to consider when buying a leash exhaustively in past articles so the next question is, what is the best dog leash available on the market? That's what we're going to find out today.
Leashes are not a one-size-fits-all thing. You need to consider a lot of things before purchasing one for your dog. You need to note your dog's weight, size, breed, strength, and age. Thus, checking the product's features can also be helpful to help you decide. We have curated some of the best dog leashes available on the market that will suit your budget and your dog's needs. Wanna know what these are? Keep on reading below.
What's the Best Dog Leash Available for my Dog?
1. The best retractable dog leash for the dog who likes to wander: A Retractable Dog Leash
There are some dogs who like to freely wander around the neighborhood, exploring the different sights and smells that tickle their curiosity and stimulating their brain by playing scentwork with their noses. Following your dog around can be tiring and there are some days that you just want to sit while you hold your dog on a leash which can be a disadvantage on your dog's part. Luckily, a retractable dog leash is available that can solve this conflict. If you haven't heard what these are, they are types of leashes that look like measuring tapes on a plastic case with a hand grip that comes with a lock mechanism to keep the preferred length at its place. The length of the leash usually depends on the brand, but the one that we recommend is extendable up to 16 ft.
2. The best standard dog leash for a simple walk to the park: A Ultra Strong Heavy Duty 6 FT Nylon  Dog Leash with Padded Comfort Grip Handle
Simple and straightforward; plain but promising–that's what standard leashes are all about. Sometimes, the simplest designs perform better just like this simple standard leash recommended by most professional dog trainers. You don't have to splurge on expensive leashes if you can spend less on a leash with a simple design that features modern upgrades to ensure safety of your dog while being a versatile tool at the same time. Standard leashes like the Dutchy Brand allows you to use it on everyday errands in case you wanna go out with your dog around the neighborhood or to the park and so forth. Thus, it is also a great learning tool for dogs and leash training when your dog is still learning new manners.
3. The best hands-free dog leash for the dog owner on the go: A Hands-free dog leash
No dog owners want to leave their beloved furry pal behind. Hence, a not-so typical leash design is appropriate for your typical everyday errands that can help you concentrate on your tasks while walking and exercising your dog at the same time. This leash is great for daily use whether you go to pick-up your laundry or run a couple of miles to exercise. Be sure to train your dog to be keen on listening to your vocal cues and commands. The great aspect about this product is that it has many amazing features that proffer plenty of advantages on both you and your dog. These are a reflective bungee feature, extra-durable clasps, a heavy-duty belt buckle, and even a detachable belt bag, to name a few.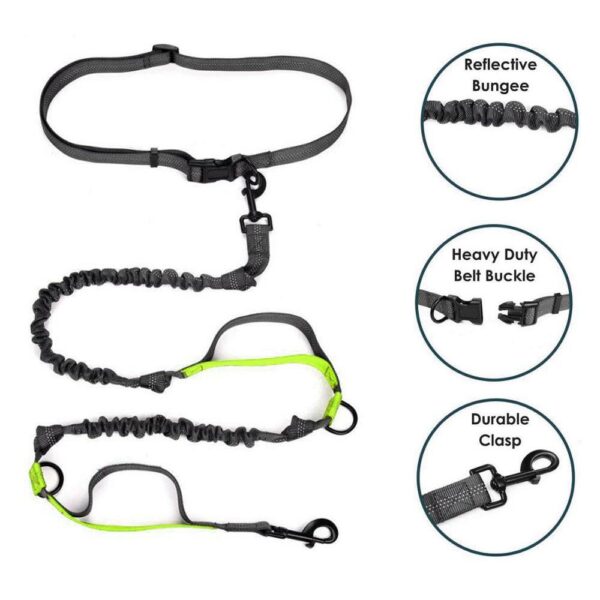 4. The best dog leash to keep your hand comfortable: A Comfort-Grip Dual Handle Dog Leash
If you're a new dog owner whose hands are not yet used to gripping leashes, then this one is perfect for you. A comfort-grip leash allows you to walk your dog all day without making your hands uncomfortable. Thus, it features a padded handle which makes this type of leash ideal for owners with sensitive skin on their hands.
5. The best durable dog leash for the alpha dogs: A Strong Dog Leash with Comfortable Padded Handle and Highly Reflective Threads for Small Medium and Large Dogs
There is no doubt that there are so many dogs that can outpower their owners with their strength. Breeds like Rottweilers, Huskies, Mastiffs, and Saint Bernards are big, gigantic, and most likely stronger than their dog owners. To keep them safe and at your pace outside, make sure to use a leash that is strong and durable enough to keep them away from unwanted incidents.
The Takeaway
We have presented some of the best dog leashes available today. Choosing the right one for your dog can be overwhelming considering that there are thousands of options on the market and online pet stores are popping up here and there. But remember, always choose the one with the highest quality, durability, and versatility. You should always aim to have a leash that is multipurpose and suited for different occasions to save you money in the long run. A leash for running? Jogging? Walking? Biking?