If there is a dog accessory more important than a collar, that would be a dog leash. Why? It's because leash laws and policies are implemented in different states and countries. If you plan to go out of your private territory, then you need to put your dog on a leash. This will keep your dog and everyone else in the surrounding area safe. Picking a dog leash used to be easy until different types of leashes were offered in the market. This made it hard for a lot of dog owners to choose which type is the best for their fido– the one that can suit their needs. Worry not because this article is all about leashes: from the different types to some brief advice to consider before you ultimately choose what to buy.
Dogs come in different breeds, ages, and sizes. So, having different types of leashes to choose from is quite an innovation in the pet market industry. They're made out of different materials, each with a different length and width, as well as intended purposes and activities. All these mentioned are very critical when choosing which one is the best for your dog. From different brands and varieties to choose from, it can be an overwhelming task for you when buying one. So today, we will be skimming the common options to choose from. Let's get started!
WHICH ONE IS BEST FOR MY DOG? HERE ARE THE DIFFERENT TYPES OF LEASHES THAT YOU CAN CHOOSE FROM:
1. Standard Dog Leash:
Classic, right? But really, does nothing beat the classic? Even though standard leashes are the most common type out there, they are not the best type nor the gold standard. A lot of dog owners probably have this type of leash in their homes because it's affordable with an alright quality. They're usually made of either nylon or leather materials. Moreover, this is easier to grip for everyday and basic dog training. You can use this type of leash for training purposes when your dog is still young and upgrade later on.


2. Retractable Leashes:
This type of leash resembles a measuring tape in which a nylon cord can be drawn in and out of its plastic case. This gives a lot of freedom for your dog because the nylon cord can be extendable for up to 26 feet, depending on the brand. To make this leash easier to use for you, most brands put a locking mechanism in the device which puts the cord at your desired length. This type of leash is not ideal for any untrained pups or dogs as they might get confused about what to expect and behave when leashed.

3. Chain Leashes:
Other than the standard type, chain leashes are also the most common type of leash out there. This is specially made for dogs who have an excessive chewing behavior. They're quite worth the price considering that they're sturdy and durable; they also aid in stopping your dog from chewing the leash. However, keep an extra eye on them as they may try to chew it the first few times they're attached from the chain. When choosing this type of leash, keep in mind the size of your dog since the strength and size of this lead also varies. Furthermore, be extra careful when using this leash as it is very prone to rust, so avoid using it in extreme weather.

4. Hands-free Dog Leash:

Leashes of this type are getting increasingly popular in public due to the convenience that they give to the owner. Unlike other types of leashes, this one gives you the ability to multi-task and focus on other things apart from your loyal companion. Thus, hands-free leashes are suitable for different activities, may it be biking, jogging, hiking, or just a regular walk in the neighborhood. However, it shouldn't be used for untrained dogs as they may overpower you due to pulling to different sides and directions. To be safe, make sure that your dog is leash trained and has the ability to follow vocal cues and directions. If not, you may practice using this leash and go out with it when they're well-trained and behaved.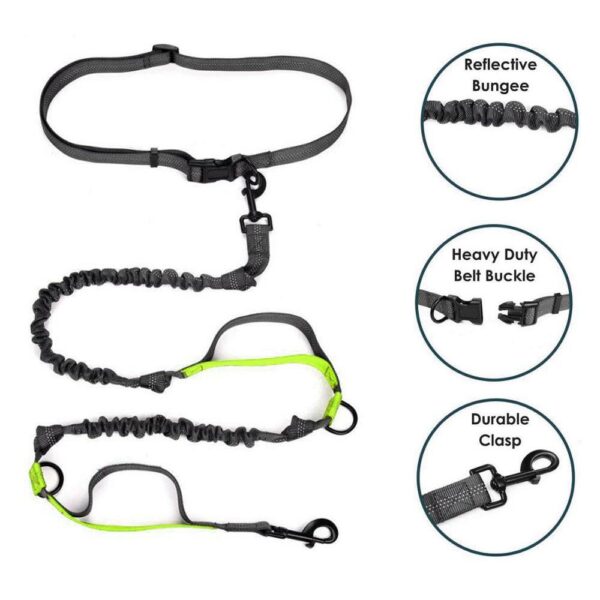 5. Slip Leads:
Probably the most primitive and least stylish-looking leash but this one can be very useful, especially during leash training. It aids in deterring your dog from pulling and misbehaving during training sessions. Thus, it will teach them to follow your command and cues. Unlike other types, slip leads do not require collars because you can loop the lead in itself. However, the biggest con of slip leads is that they can be a choking hazard for your fido if you're not very careful while using them.
6. Harness Leaders:
Though generally considered as a harness in itself, this type is also classified as a leash. Harness leaders are great if you want to have more control over your dog outside, it's also ideal if your fido has tracheal problems. They fit well around your dog's chest (if you choose the right size) which alleviates neck pain.
QUICK REMINDERS BEFORE BUYING A LEASH
So, have you decided which type of leash you will purchase for your furry buddy? If so, here are a few reminders before placing your order to the checkout counter:
Measure your dog:
You don't want the leash to be too tight as it can choke your dog and restrict their movements. On the other hand, a leash that is too loose wouldn't serve its purpose.


Choose a product made of high quality materials:
To save you money and time, choose something that is made of good materials. If you're buying from a store, examine the physical properties of the leash. Meanwhile, if you're buying online, read the customer reviews as they can help you decide whether or not the product is a good one.


Find something that fits your budget without compromising the quality:
Not all quality leashes are expensive while not all expensive leashes are good quality. Set some options before making the final purchase.