The popularity of dog backpack carriers is evident because we can see several fellow dog owners begin to use this product. Every time we buy a product for our beloved pet, we should consider the quality, usefulness, and if it's financially worth it. If you're thinking of buying one but uncertain if it's worth the cost, this article will help you decide, so keep on reading to find out more.
Sure enough, our dogs love the great outdoors as much as we do, but sometimes, they find it hard to keep up with our pace and we can't slow down our walking (or running/jogging) pace all the time, especially when there are also a bunch of people in the same environment. Thus, it's hard to leave your pet alone in the house, particularly  if your pooch experiences separation anxiety. A possible and practical solution to that is simply a dog backpack carrier. This backpack carrier specifically made for those instances isn't just meant for circumstances like that, it is also an ideal accessory if you want them to accompany you as you run errands such as grocery shopping, as well as outdoor activities like hiking and biking.
A dog backpack is a backpack and pet carrier merged into one in order to provide convenience and ease to your outdoor travel with your favorite pet. These are 100% safe for dogs and can be worn at the front (or even at the back), allowing your pet to view their surroundings without compromising their comfort and security. Based on the attributes mentioned, a dog backpack seems to be worth the price. You might be thinking of purchasing one right now, but before you ultimately decide, let's look at the available designs, as well as the aspects to consider before you buy. Remember, this will be an investment, so we want to make sure that your money doesn't go to waste. Below are some of the reasons why a dog backpack is a must-have for every traveling pet owner.
Why Dog Backpacks are Better than Traditional Pet Carriers:
1. It's hands-free, so it allows you to do other things, especially when you're engaged in activities like hiking or biking.
2. Having a dog backpack allows your pet to be carried in public transportation such as busses and trains. Some airlines also allow this, as long as the dog backpack fits to their guidelines.
3. Comes in different shapes and sizes, allowing you to choose the best match for your pet.
4. Ideal for elderly or disabled pets.
5. Helps to keep your pup contained in public places.
THINGS TO LOOK FOR IN A DOG BACKPACK:
1. Materials:
First thing to check on a dog backpack is the materials because these will likely tell whether or not the backpack is in good quality. Thus, materials will also determine the comfort and safety of your dog so never compromise on them. Make sure that the backpack has a sturdy bottom support, a zipper, and soft yet durable interior.
2. Comfort and support:
Apart from ensuring the safety and comfort of your dog, you should also consider if the backpack is suited to your body type and will not make you uncomfortable in any way. Make sure that the backpack has a padded shoulder strap and a back support so that your back and shoulder don't ever feel sore.
3. Purpose:
You need to consider your main purpose for buying the backpack, as well as the purpose of the backpack itself. Some backpacks are specifically designed for one task, while some backpacks are multi-purpose. We suggest you invest in a multi-purpose bag so that you can use it on different occasions.
4. Safety:
Your dog's safety is your top priority. Never invest in a backpack that is cheap and low-quality. Instead, opt for a high quality backpack that has special features for safety, comfort, and support. Thus, never put your dog in a regular backpack. Regular backpacks are a lot less sturdy than dog backpacks so they are unsafe.
DIFFERENT TYPES OF DOG BACKPACK
1. K9 Sports Sack:
This type of dog backpack is specially designed for your trail adventures and other outdoor activities such as biking and hiking. Thus, it is ideal for larger dogs as it can carry dogs that weigh up to 40 lbs.
2. "Heads out" Backpack Carrier:
Made out of soft yet very sturdy materials, this type of carrier is a lightweight carrier designed to carry small to large dogs up to 40 lbs. Thus, the bag itself is of the weather-resistant variety and comes with a mesh fabric to ensure the comfort and breathability of your dog, plus a padded shoulder and straps for your support.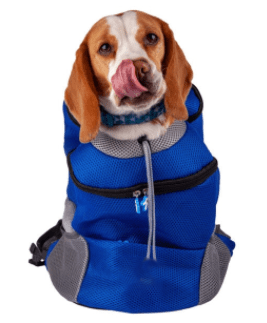 3. Wheeled Dog Backpack:
This backpack is a bit larger than regular dog backpacks, so it's ideal for dogs who weigh more than 40 lbs. As the name suggests, it comes with wheels so you can roll it if you get tired of carrying the bag. Thus, it's also one of the types that most airlines approve when you travel with your dog. However, the downside of this backpack is that unlike other types like the heads out backpack, it cannot be worn in the front because it's too big.
4. "Legs out" Backpack Carrier:
Similar to heads out carriers, this type of dog backpack can be worn in the front or back while having your dog's legs and heads out for better movement. This type of bag is usually ideal for small dogs only, typically those who weigh for about 15 to 20 lbs.
KEY INSIGHTS
Now that you know the key advantages, as well as the different types of dog backpacks, we hope that we have enlightened you with this informative and comprehensive guide about backpack carriers.