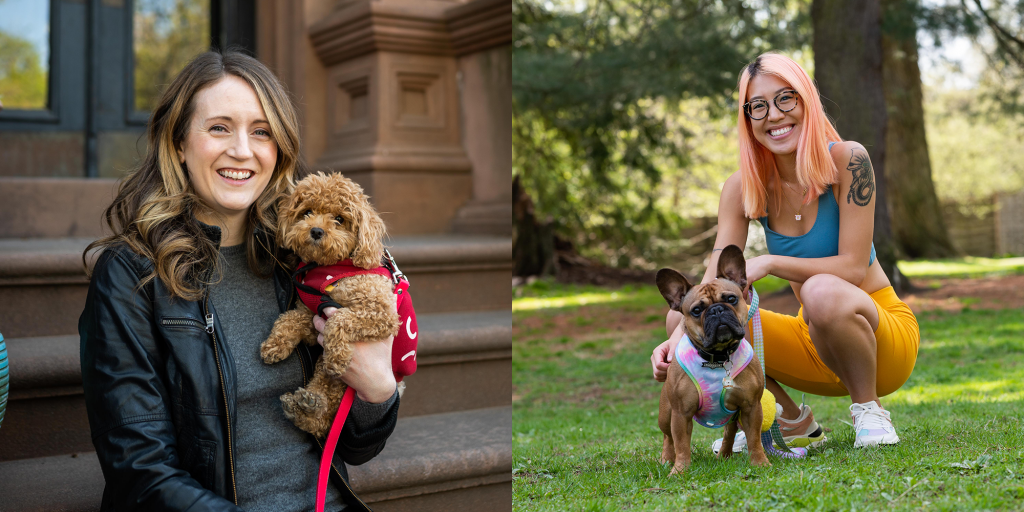 "Delia's my ride-or-die."
"Otto has allowed me to see what the future could hold."
No, these women aren't talking about their partners, children, or human BFFs. They're talking about (wo)man's best friend a.k.a their fur babies—their dogs.
The mental health benefits of having a pet by your side have never been so apparent as during the past year. More than 90 percent of pet owners said their animals helped them cope emotionally with COVID-19 lockdowns, and 96 percent credited their furry friends with keeping them active during the isolation, according to a new study from PLOS One.
These eight women can attest to the positive benefits a pup can have on your mental health—during both tough times and everyday life.
In honor of Mental Health Awareness Month and in partnership with @TheDogist, they're sharing the stories of how their dogs have improved their emotional states in ways both big and small.
'Dogs have always been my safe place.'
"When Waffle (@wafflenugget), my Bernese Mountain Dog, came home with me when she was eight weeks old, she was the best Valentine's Day present ever. Dogs have always been my safe place; they are my spot to come home to. At the time, I was at home, disabled, and working super part-time. I had a history of psychosis, including hallucinations and suicidal ideation, and PTSD. I spent years in an agoraphobic state struggling to leave the house.
Three months after we got Waffle, she started doing something strange. I'd be on the couch on my computer and she'd suddenly wake up, run, and jump on me. My now-husband and I called it a 'fluff bomb.' As soon as Waffle would fluff bomb, I'd start to see hallucinations. I kept track of when these would occur and realized that she was picking up on my body chemistry changes and alerting me that these visualizations would soon come.
From there, I spent a lot of focused time training her to be my service dog. I was able to start building my career—a feat in of itself for someone whose doctors said was destined to live her life in a psychiatric ward. Waffle was and is my lifeline. She's my greatest teacher and has empowered my growth.
This past year has been triggering. My PTSD went from being manageable to becoming a constant daily battle. I went from having one night terror a week to five a night.
Still, Waffle has been instrumental. The tasks I taught her as a puppy—how to get me up and out of the house—have been foundational this year.
With Waffle, I hope to teach other people that we're all going through something, if you're just brave enough to ask about it. And life is better when you ask. There's no shame in mental illness, it's human. Honestly, life is a lot better when we're human together." —Kate Speer, 33, CEO of The Dogist, Norwich, Vermont
'He's there for me even when I don't know I need it.'
"Before I got Noodles (@noodles.thefrenchie), my 3-year-old French bulldog, I didn't know what kind of impact he'd make on my life. I thought, he's so cute, we'll have fun together, and he'll be my best friend. Little did I know that he would help me through some truly weird times during the pandemic.
As a Chinese American, I have this extra layer of having to worry about hate crimes directed at the AAPI community. When I find myself continually scrolling social media and reading about all the news that's constantly circulating, I am truly stressed. Having Noodles with me is so comforting because when he's next to me, I can take a moment to pet him and take a breath. He'll make a funny noise and that will bring me back to reality. Suddenly, I'll think we're going to get through this.
Mental health is so important. You can talk about your feelings with friends or a therapist, but your dog is there for you even when you don't know you need it—or when you didn't even ask for it. Noodles isn't perceptive to my emotions. If I'm sad, he has no idea I'm sad. He'll just leave a toy by my feet. And I have to play with him. He's an instant mood booster." —Macy Yu, 26, customer experience associate in Philadelphia.
'He's shown me what my future can hold.'
"I'm a single gal in a big city, and I wanted to get a dog for companionship, safety, and to ease my anxiety. Over time, that desire became a need when that minor depression and anxiety worsened. It got to a point where being alone was not conducive to my mental health. So, in a conversation with my therapist, I brought up the idea of getting a support animal as a supplement to the other work I was doing on myself.
My apartment building didn't allow animals, and so I asked my therapist to write me a letter about my need. But it took a while for me to get enough courage to ask my landlord. The longer I put it off the bigger my anxiety grew—what would happen if he said no?
It was almost funny when he basically shrugged and said 'sure.' That right there was a good lesson about not getting in my own way.
From the jump my puppy—a terrier mix I named Otto—was so snuggly and sweet. Two weeks in, Otto ate a big chunk of a dog toy and I had to take him to the emergency vet. I handled it calmly and rationally, calling an Uber to get him to the vet and getting him treated. The fact that I could care for him and handle the experience was a breakthrough for me, and something that gave me confidence and eased my anxiety.
Once the pandemic is over, we'll be able to forge ahead on our life together. He's quelled a lot of my anxieties about what we're living through right now. Otto has given me a way out of this pandemic and allowed me to see what the future can hold, and for that, I am grateful.
Most importantly, he makes me laugh. Having a constant source of joy around makes every day infinitely better and it's helped with the physical manifestations of my anxiety." —Samantha Storch, 28, sync licensing coordinator in Brooklyn
'The dog park is just as important to her as it is to me.'
"In addition to being a student working toward my master's in public health, I also work as a contract tracer, which means I call people who may have been exposed to COVID-19. Sometimes the calls are really tough, such as when a family member is hospitalized or if someone has misplaced anger and is berating me on the phone. Maisie, the pit-lab mix I adopted this year, is always right here, and when I need her, I ask her to come to me so I can pet her.
But she also adds some great levity. I might be having an intense phone conversation as a contact tracer and Maisie will pop in and bark at almost the perfect moment. That gives me and the person I'm speaking with a break where we'll talk about Maisie or a shared love for dogs, and it really breaks the ice and helps the person warm up.
If I've had a long day, I need to go outside and decompress. Maisie comes with me to walk circles around the neighborhood so I can chat with people about our days. For me, the dog park has been a place for socialization, and I rely on it for my own health as much as Maisie's. You don't realize how much you miss basic human contact until you're chatting with neighbors about what you had for dinner the night before." —Dana Christensen, 23, a student working toward her master's in public health and contract tracer, Brooklyn
'Delia lets me hold her and cry when I need to.'
"Around the 2016 election, I was feeling a little bummed and uncertain about the future. As a self-soothing mechanism, I looked up cute puppy and kitty photos on Pinterest, a habit that helped me feel better. I thought, maybe I should get one. That's when I got Delia, my maltipoo, who's now almost 4 years old.
My mom was a 20-year cancer survivor who underwent chemotherapy for a couple of decades. The long-term chemotherapy had an effect on her heart. After the second time she had cancer, she was diagnosed with congestive heart failure. Christmas of 2018 my mom met Delia for the first time. Their bond was immediate.
Soon after, when Delia was a year-and-a-half, she herniated a disc in her back and became paralyzed. Emergency spinal surgery corrected the problem and restored movement in her legs, but it's been a tough road during recovery and physical therapy. She can walk and run, but she still has a limp.
In August 2019, my mom suffered a stroke. While doctors were confident she would recover, she suffered cardiac arrest and later, multiple organ failure that led to her death. I'm an only child and my mom was divorced. It's always been just me and my mom. I had to make the decision to take her off of life support. I held her hand as she passed.
Delia was there waiting for me. I scooped her up and took her to my room and cried. She's really a sentient teddy bear and her talent is snuggling. It's been one-and-a-half years since my mom died and Delia is really gracious about letting me hold her and cry when I need to. Just as I supported her through surgery, she supported me through my mom's death. Delia's my ride-or-die."—Amy Wilkinson, 38, entertainment editor at Women's Health
'After we got her, the rest of my life fell back into place.'
"Before the pandemic, I would describe myself as super extroverted. I think I was out every single day, taking French classes, hanging out with coworkers, dancing, singing karaoke, or going to a workout class with a bunch of friends. With stay-at-home orders, I was suddenly cut off from everything. I felt so disconnected; I didn't have the drive to do anything anymore. I felt depressed. All I tried to do was make it through the workday.
Throughout this past year with news of people dying, racial injustice issues, and hate crimes against Asian Americans, it did not feel safe to go out. So, I didn't. I would go days without leaving the apartment. My sleep suffered. I wouldn't eat until 5 p.m. Bedtime was often 5 a.m. Constantly exhausted and unmotivated, it was difficult to move forward in life.
Then, my boyfriend Alan and I adopted Sunny (@alwayssunny.ny), a beagle/jindo mix from Korean K9 Rescue, a non-profit that rescues dogs from meat trades, puppy mills, and high-kill shelters in South Korea.
After we got her, the rest of my life fell back into place. It started with my daily schedule, which is now regular and involves going outside multiple times a day. I'm the founder of Hearst AAPI, a group that works to amplify AAPI voices, and Sunny has helped me stay positive, engaged, and upbeat. Even my relationship with my boyfriend has improved. She has brought so much stability, structure, and purpose to our lives."—Frances Lee, 29, manager of global brand content strategy at Hearst Magazines, founder Hearst AAPI
'She came into my life at the exact right time.'
"My husband and I adopted Daisy, our chocolate lab, right before my husband's second deployment in the Navy. Military spouses are resilient, but nothing can prepare you for your loved one being gone for close to a year. Deployment is lonely, and when he was gone the first time, it was just me at a brand new duty station, and I had to strategize on how to fill my free time.
As a puppy, Daisy was an adorable terror. With the right training, she calmed down and she's our best buddy. In fact, at 50 pounds, she does not leave much space in the bed for us!
In addition to filling that space in our bed, she fills that space in my heart, too. When John, my husband, was deployed, I would talk to Daisy like she was a normal person. We ran together, and she kept me tuned into my regular workout routine, which was great for my headspace.
During the pandemic, my husband and I would go for family walks, something that brought peace in a very stressful time. I look at Daisy's role as a bringer of joy, something she gives to everyone she meets." —Allie Early, 31, senior editor at Good Housekeeping, Brooklyn
'With them, I'm more present and I don't take myself as seriously.'
"When the pandemic hit, I felt depressed. Even though I made the transition pretty quickly and smoothly to doing virtual training with clients, it was still tough. I live with my sister and we were just staying home a lot. One day I looked at her and said: 'I think we should get a dog.' She said: 'Yes, let's go.'
We brought our white maltipoo, Serafina, home as a puppy. Two weeks later, we decided to get another and brought home Alima, a black shih-poo.
These dogs brought me and my sister so much closer together. We weren't snapping so much at each other because we had something else to care for and we had to improve the way we communicated with each other. We were no longer as angry and annoyed at being locked in the same house together.
Before the dogs, there was no reason to go anywhere. But we started going out more and walking our puppies became really cathartic. As we explored our neighborhood, we became visible in our area and recognizable. People knew us as the twins with little dogs. And you know what, we found out our neighbors are really cool.
Serafina and Alima make life so much easier. They live in the moment, they don't hold grudges, they live for today. With them, I can be more present and I don't take myself as seriously as I once did. Even potty training them has been a great learning experience: We rush through life a lot, but patience, practice, and repetition are key. Good things take time." —Kehinde Anjorin (right), 33, trainer, New York City, pictured with her sister